eTextbooks with Kortext Complete
Unlimited access to core texts on your reading lists at University of Wolverhampton
The Library has partnered with Kortext, a digital eTextbook provider, to provide students with access to digital copies of key reading list textbooks.*
Students will be able to:
Have personal, digital, access to essential textbooks

Read anytime, anywhere

Read the textbook offline by downloading the free Kortext app

Use the Kortext apps to store lecture notes, journals, or any PDF

Go directly to specific pages or chapters

Bookmark pages of interest

Select important passages of the textbook and make notes and highlights in colours you like.
*Not all core textbooks are accessible through Kortext. Where we can't provide an eTextbook the Library will try to provide suitable alternative provision.
How to access

Kortext

eTextbooks
You can access Kortext eTextbooks in a number of ways:
via module reading lists where Kortext eTextbooks have been added
via LibrarySearch

via the

Kortext

APP

(download for MAC, iOS, Android, Windows 10)
And once you've added books to your library you can go direct to www.kortext.com.
If you are a first-time user, or you don't have a current Kortext account, you will be prompted to register via a simple pop-up box. Your name and email address will be automatically populated but you will be asked to create a new password (which can be different to your University of Wolverhampton password). The password is needed to access the Kortext app.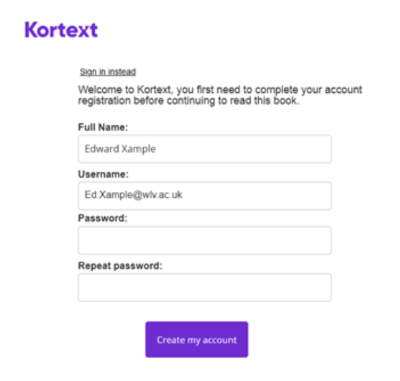 How to use

Kortext

eTextbooks
Visit the Kortext online support pages to learn more about how to use Kortext eTextbooks and find videos on how to use the Kortext Reader and Kortext Mobile App.
The Kortext platform boasts a range of features to enhance both student and academic learning and teaching experience. Core features include:
Personalisation and study tools allowing you to annotate your copies of eTextbooks, as well as search, bookmark, share notes, export references and more.

Award winning accessibility features with customisable display to suit user preferences including change of font size, style and background colour, and a read aloud function.

Unique Kortext apps that offer the ability to read anytime and anywhere - with ease

Offline working mode providing all the same functionality as online
How to get further help and support
If you have further questions you can visit the Library Assist Support pages or get in touch via Library ASSIST live chat.
If you need help accessing your reading list on Canvas. This FAQ on accessing reading lists will help you to get started.
What does this mean for print books in the

Library

?
We know that many students and academics place high value on access to print resources, and the investment in Kortext Complete should not impact print collections or change our approach to collection management. Print books, journals and other resources will remain in our library buildings and be available for you to use.
Information for staff
Information for academic staff can be found on the Academics section of the library webpages, under Kortext eTextbooks.